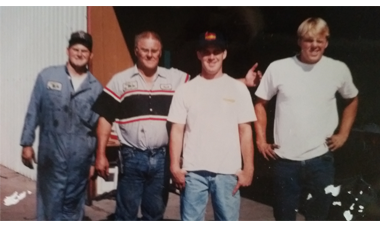 Wildwood Express Family
Mark Sr, Sue, Mark Jr, Matthew, Luke Woods & Johna Calandra
Wildwood Express has been servicing the farm community since 1968. With our central location in California we are able to provide our customers with exceptional service. Wildwood can load most any product a flatbed or van can load. Product can be loaded from a dock and unloaded from the side. This process helps with many agricultural related products as well as transferring loads from plant to warehouse. Our Curtain Van service ensures additional safety for our driver and your personnel.
With our technology we offer real time shipment tracking, equipment monitoring as well as on board logging, images of POD's, report generating & Pickup Requests. We are also fully EDI capable, accepting 204's and sending 210's & 214's. Wildwood was created from a trucking company's perspective on how a curtain van should operate. Curtain vans are designed to protect the load, speed up loading time, prevent loading/unloading injuries and increase load capacity. The first Wildwood trailer was built in 1983. Since then many changes have been made. These changes were made to help lower costs, increase dependability and reduce weight without loss of structural strength.
Mark Woods Sr. started his trucking company as an owner operator in 1969. At the time Mark was hauling hay, cotton, glass bottles, paper boxes, and paper rolls. Kingsburg is a great location. It was the center between the paper mills, glass plants, growers, packing houses, canneries, and all kinds of commodities throughout California and Arizona. Mark Sr and Sue started a family as well in 1969. Mark was out in the road day and night while Sue was on duty as a mom and a dispatcher. As time went on; Mark and Sue's family business was growing. They moved three times before they landed their family home and family business located at 12416 E Swanson Ave in Kingsburg California. By 1977 Mark and Sue had four children; Mark Jr., Matthew, Luke and Johna Woods. Mark and Sue had a busy schedule throughout the years with school, sports, 4-H, FFA, and drag racing. Mark and Sue had helped raise other children that would live with the family. This was from mid 1970's thought the mid 1990's.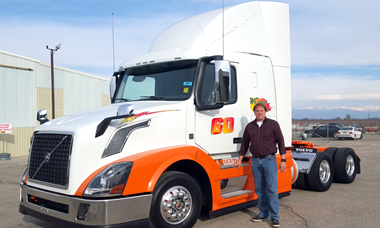 Mark and Sue had an open door to any challenged children; do to family or educational and other disadvantages. A total of eight children would graduate from Kingsburg High while living with the Woods Family. Wildwood Express Inc. was created in 1978 and ownership would be Mark and Sue 10%, Mark Jr. 30%, Matthew 30% and Luke 30%. The Woods family has built five other companies in the last 25 years. Woods family farms, Wildwood Packing and Cooling, Wildwood Produce Sales, Wildwood Curtain Sides and Sun Sweet Fresh Sales Company. Mark Jr and Luke would stay and help work and manage Wildwood Express throughout the 1990's, Matthew was working in la Quinta, CA. as produce salesman and Johna was going to college at San Francisco State. Mathew and Johna graduated from college.
Mark Sr. has been rewarded Kingsburg's Business of the Year 2011. The Wood's family donates a lot of time and money to Kingsburg Catholic Church, 4-H, FFA, Youth Sports, and City of Kingsburg Parades as well as car shows and school activities through the Valley. Matthew is Kingsburg Chamber of Commerce President.
By 1975 Mark operated 15 trucks with equipment standards of 2 axle tractors with double flat bed trailers. Mark's challenge came with P.U.C. on deregulation during this time. Trucking operation was captive throughout the mid 70's. Mark felt his only opportunity was services; therefore, he was on the road as driver, Sales Rep. and when he entered his truck yard he was in the shop maintaining trucks and trailers. He expanded his skills and began to paint and design the Wildwood image. His real love the unique details he could add on his truck which separated him from the trucking industry. During this time Sue was helping with day to day office management, ordering parts and tarps plus setting up pick up times and deliveries…all while raising a family.
In the late 70's Mark had gained ground on his competitors due to his quality of service. At this time Mark became interested in speed and performance and with this interest he started drag boat racing. Racing became his love and challenge and he prevailed with a word record in Blown Gas Hydro as well as the Alcohol Hydro. Even with his involvement in racing drag boats, Sue and Mark continued to manage the Mark Woods Trucking Company and were quite successful. Within the drag boat racing world, Mark was quite outspoken and would not give in to anyone or anything, he was intense. With this intensity he acquired the nickname of "Wildwood"; which he lived up to every second of every day. In 1978 Mark saw a need to incorporate his trucking business, thus it became Wildwood Express.
Mark was on a mission to separate Wildwood Express from the industry standards. He believed the flat bed would add more to Wildwood's success and safety was his first goal. Wildwood Express bought the first 2 curtain vans from Utility Trailers in 1982. This purchase put the company on the cutting edge of the trucking industry. To expand their thinking further, in 1984 wildwood purchased the first on board computer log system called "Cadec"; which became permanent part of Wildwood Express for many years. Safety became Wildwood Express first and foremost biggest accomplishment in the 1980's. This showed with Wildwood's customers base at the time including: Del Monte, Gerwan, Gerwan Farms, Pandol Farms, Saint Gobain Glass Company, Stebastian Vineyards, Madera Glass, Golden State Vineyards, Giumarra Vineyards, Cal Paper, Macro, Maxco box Company, and Calpine.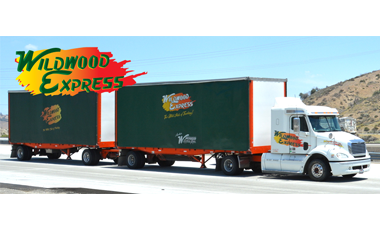 Mark Sr., has challenged utility trailers with the safety and performance he demanded for each of the trailers they built. Mark was informed that the changes he demanded would not be made. This encouraged Mark and Sons to begin to build their own trailers complete with curtain vans. Wildwood Express Curtain vans successfully pulled ahead of any other manufactured curtain due to their safety and performance parts.
Throughout e 1990's Mark Sr. and Mark Jr. Worked side by side to prefect Wildwood's success as a manufacturer of curtain vans. Their curtain vans had a roof and wheel dimensions that would allow 8 to 15% increase for their customers. To this day Wildwood Express air operated curtain side system is the most advanced on the road. Drivers love the safety, time saving management and Wildwood Curtain Side Company's maintenance and repair safety procedures. During this time Johna became office manager for Wildwood Express.
The Wildwood Express Curtain Vans have created a new way for farmers to gain food safety and produce a better pack out. Covering fruit and vegetables with curtain vans has protected them from heat, wind, and other elements on their way to various packing houses throughout California and Arizona. Pack out has increased from 10 to 20 percent with this unique air ride and curtain equipment.
In the early 90's Mark Sr. and Mark Jr. started to race in the NHRA with fuel dragster. Mark Sr took on the duty of maintaining the clutch, bottom end, and ratio changes on the motor or rear end. Managing these changes created the quickest fuel dragster in 1999. Since double curtain vans have more drag than most truck and trailers in the industry, Mark Sr and Mark Jr applied their drag racing ideas to help Wildwood Express become the most fuel efficient trucks on the road. Their fleets of trucks averaged 6.7 MPG.
In 1995 Mark Sr, Mark Jr, and Luke had been farming tree fruit and when Matthew Woods came home from La Quinta. He had an idea to build a packing house and cold storage that would handle packing their fruit and extend the option to others on year round bases. They also use the facility to transfer loads for Wildwood Express's customers; such as Nursery Pots, RPC's, clam shells and plastic bins. This would provide the central valley with all commodities and transportation needs. Wildwood Express capitalized on this and Wildwood Packing and Cooling has been operating since this year 2000, Luke manages this operation.
In 2012 Wildwood Express was challenged, again with one of its biggest accomplishments the 19.5/285/70 tire and wheel combination. Freightliner Company informed Wildwood that this wheel tire would not pass the law requirements. Wildwood was challenged to find a truck and brake manufacturer who would prevent its tire and breaking application from being discontinued.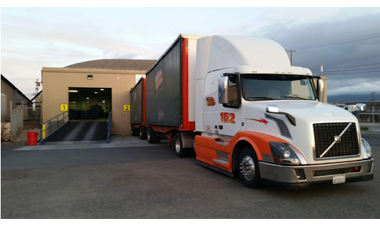 Mark Sr. and Mark Jr. were confident this was and is the safest and most efficient wheel and tire combination for any truck company. Volvo Trucking Company understood the requirements which the DOT has mandated..250ft stopping distance. The challenge was for Volvo, who had minimal experience in this type of application to build a truck with this wheel combination. Wildwood Express was told $25,000 would need to be added on the price tag of $125,000 for one truck and for the test by Link Commercial Vehicle Testing INC in East Liberty, Ohio. The truck was built and sent to Ohio for testing after weeks of testing Wildwood Express and Volvo Truck Company had great results..28ft before the 250ft law requirement. This was no surprise to Mark Sr and Mark Jr. because they knew this combination was and will be the future in the trucking industry.
Mark Sr and Mark Jr continued with new ideas and designed a refrigerated trailer that can haul eight to twenty percent more weight or cube than any refrigerated trailer on the market. Wildwood Express understood efficiencies and carbon footprint way before it applied to the trucking industry.
Wildwood Express understands that carbon footprint is measured by weight and volume. Wildwood Express has expanded its operation in 2013 by 25 percent. Mark Jr and Wildwood's dispatchers were experiencing difficulties to manage its customers' services. Wildwood Express found its latest and great partner Truck Soft Cloud System which can help manage customers, dispatch. Drivers safety, and on time pick up and delivers efficiency. Truck Soft also manages its payroll, inventory, billing and messaging between customers, dispatch, and drivers flawlessly. Communication is driving this industry to the most competitive time due to drive hours of service.
The Wildwood Family newest business, since 2012 is Wildwood Curtain Side. Wildwood Curtain Side built its facility next to Wildwood Express. This has been very successful and helped many companies and new construction for trailers, Matthew manages this operation.
Wildwood Express and other Woods Family business are challenged with communication between its partners, management, and customers. With these challenges we have hired a gentleman to help with our annual corporate meeting and meetings throughout the year. Our consultant has benefited the relationship as family and business partners. Managing our buy sell agreements and discussing are future has us talking about the next generation, which might be the most difficult transition the Woods Family can accomplish as business partners.